MacBook Pro (Retina, 13-inch, Early 2015)
When Apple announced their 2017 MacBook Pros with Touch Bar I was not ready to give up all my ports. While others were in Apple Stores and online buying the new model, I immediately bought a maxed out rMBP 13-inch with 2.9 GHz Intel Core i5, 16GB DDR3, Intel Iris Graphics 6100 and a 1 TB SSD for fear that these MBPs would be discontinued. I use my machine as my main workstation, including building web and iOS apps, basic productivity, giving presentations, podcasting and editing photos/video. A lot of these tasks require me to plugs things into my laptop. Rather than carrying around a bag of dongles, I invested in a MBP that would carry me into the next chapter of connectivity.
iPhone 8 (Space Grey, 256GB, Unlocked)
I recently upgraded from my iPhone 6s because the battery was showing it's 2 years of continuous usage.
I haven't bought into the Post-Computer Era of tablets, app ecosystems and mobile browsers. Which means I still prefer sitting in front of a computer with a full OS. But since I like to travel and work on my own schedule, mobility and flexibility is a priority. I've engineered my personal and professional life to where I can do 80-90% of what I need to do with my just my phone.
iPhone 6s Plus (Space Grey, 126 GB)
I don't travel as much any more, but when I do, I like to have a backup phone that is almost an identical image of my main phone. I bought this one used on Craigslist and it stays charged and stowed away for a rainy day.
Update: I bought a Google Pixel 2 to replace this phone, but I'm still waiting for it.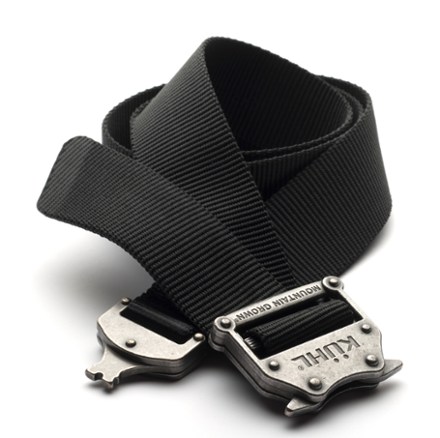 I've had a love/hate relationship with belts for most of my life. Either the belts I buy are poorly designed, or, which is probably more the case, I have an awkward body. Suffice to say I've spent most of my life pulling up my pants. That is, until I found the Raid belt by Kuhl. It's sturdy construction and solid hardware make this the most sturdy and versatile belt that I've ever owned.
The only downside, not always TSA friendly when going through security.